If you have this idea in your head to start a new website, the very first thing to be done is you need your own top-level domain. So, what is the way to buy cheap domains?  Select your domain name and there is no rule that the domain name and hostname cannot be the same. To get your work done the best way, you need a great domain registrar and you can have host someplace and domain registrar someplace else to keep your domain safe. The question that now arises is from where can you get the cheap domain? Choosing a cheap domain can be challenging only if you have nobody to guide you.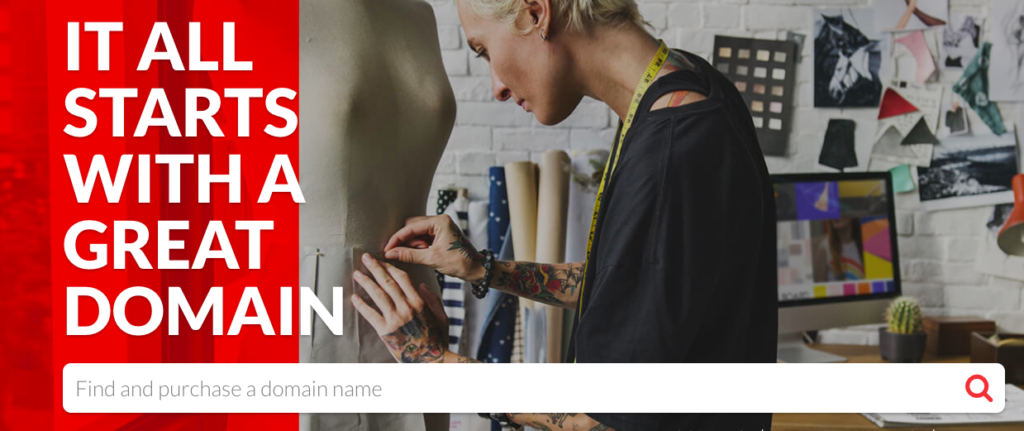 So, we are here to help you. We list 5 best websites from where you can buy a cheap domain:
Domain.com
Domain.com offers you the cheapest domain names registration services with ".com" domain names just starting from $9.99/year. They are one of the popular preferences for domain registration. With ".mobi" domains at $2.99/year to ".net" and ".org" domains priced at $8.99/year. Domain.com is one of the best domain websites that value for money. Domain.com has a lot of options to offer given at low price. At this moment, Domain.com is offering following payment options to its customers: PayPal, Visa, MasterCard, Discover, and American Express. So, you can move to them and get your work done.
GoDaddy
GoDaddy has been working for a very long time. They are both a domain registrar and a hosting company, so they can help a lot for your site without having you turn to other places. They are seen to be the world's biggest domain name registrar and also, they sell a lot of other services to support larger sites, e-commerce sites, and much more. GoDaddy costs $14.99/year to register a domain name, but they often run promotional discounts where you can register a domain for as little as $0.99.
GoDaddy offers great services,  Use GoDaddy Coupons to avail discounts on domain purchase but their design and ability to use the service can be improved a bit. You can get your work done, but you will have to wade through constant upsells of other products and services and their cluttered layout.
Overall, they do offer stellar phone support, if you're one of those people who would rather speak to a person, than email. The extras that they try to add in your basket are a bit too much, and for newbies, this can be quite confusing.
Name.com
Name.com is another long-time player in the domain registrar market. Beyond just offering simple domain registration, they are also offering tools like hosting, email, and even a DIY website builder.
So, if you're looking for a great place to take care of all your website needs at once, then NAME.COM could be a great choice. One thing great about them is that their pricing is very clear-cut; you don't have to keep an eye out for hidden charges. For starters, purchasing a ".com" or ".net" will only cost you $12.99, while a ".org" will only run you $10.99.
One of the cool features of there is their built-in search interface, which automatically enables you to see which domain extensions are at present available for your chosen domain. They do have add-on services that they will upsell you with, but luckily these aren't as invasive as other sellers. However, their support is not available 24/7, so hopefully, if an issue does arise with your registrar or hosting, it falls within their support window.
Namecheap
Namecheap is a firm choice for registering your domain name. Plus, their site is incredibly insightful and easy to use, especially on their domain management pages, which are incredibly helpful. They offer reasonably priced domains and also provide you with free DNS service, and WHOIS protection. They also offer you SSL encryption, for those looking to grumble up the security of their domains. Registering a domain with Namecheap normally costs you $10.69/year, but for a limited time, you can get a .com for $8.88, which comes with a 1 year's free WHOIS Guard. Plus, if you run into any issues getting your domain setup, they have a ton of easy to follow tutorial videos. Namecheap has a sharp and easy-to-use checkout process, and also have a helpful knowledge base if you do run into any setbacks. However, they only offer chat support, so you won't be able to speak to anybody if the need arises last moment. Although, their support is incredibly responsive and helpful.
Bluehost
Bluehost is a well-known web host; they are typically regarded as one of the best hosts for the ones getting started online. But, they also let you register domain names too. If you're planning to purchase hosting at the same time you register your domain name, then Bluehost can be a good fit for you. When you purchase one of their hosting packages, you will actually be provided with a free domain name. So, if you are planning to purchase hosting and a domain at the same time, this can be a way to help you save a little bit of amount. You can also use this handy tool to check if your domain name idea is available to buy or not. Bluehost has a great support team and are available 24/7 that is 365 days a year. A lot of people choose Bluehost because of their support alone.
Quick Tips to choose a Domain Registrar
Consider pricing and value thoroughly before you buy one.

Make sure you're going through an

ICANN-registered

registrar.

Look out for hidden fees and fees for transferring or releasing.

Check to see if you are getting any Email accounts/Email forwarders.

Consider buying add-on services like free WHOIS guard.

Check their policy for domain transfer. For example, many registrars like GoDaddy will not let you transfer domains outside of GoDaddy for 60 days.
So, out of these which domain registrar are you using for buying domain names and registering your website?
About The Author
[ad_2]