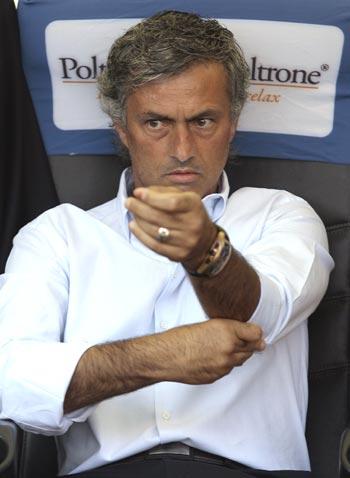 Former Chelsea manager Jose Mourinho says he wants to return to England to coach, hinting he could be back with a Premier League club for the start of next season.
The Inter Milan boss, who won six trophies with Chelsea from 2004-07 returned to Stamford Bridge for the first time since leaving to watch their 2-1 Premier League win over Fulham as preparation for their Champions League clash in the New Year.
He told British tabloid The Sun on Tuesday: "I want to come back to England. I want to be back. I'm not the kind of guy to his feelings hidden. I love it here."
Mourinho, 46, who took Chelsea to their first title for 50 years in 2005 and retained it the following year, also won two titles with Porto and won the Serie A crown with Inter last season.
He continued: "I believe I will be back one day. I don't leave any club in mid-season to go to another.
"So until the end of the season, there is no chance I will leave Inter," he added.
He also said that if Inter knock out Chelsea in the Champions League in their Round of 16 tie, he would not celebrate the victory.
Mourinho famously ran down the touchline at Old Trafford when his Porto side eliminated Manchester United from the Champions League in 2004, but said he would not repeat the sprint if Inter won the tie.
"If we win I will do nothing. I have a love affair with Chelsea and I will not celebrate. I still love this club and I respect the people here. I respect the fans and I respect the players," he said.
Mourinho watched the match from Chelsea owner Roman Abramovich's private box, although the Russian billionaire was away and did not watch the match with him.